Our Network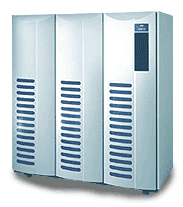 Datacenter Cameras:
Web Cam 1
Web Cam 2
Our state-of-the-art data center is comprised of ultra high-quality connectivity, Fully Cisco Certified networking gear, climate control, security and power systems. Our facilities are monitored 24/7/365 from our state-of-the-art network operations center and if a problem arises, we are here to help you!
Our internal network architecture is a complete Cisco product and is a Cisco Certified Network. We utilize Cisco 7500 and 7200 routers as border routers, Cisco 6500 series switches in our distribution layer, Cisco 6500 and 5500 switches in our aggregation layers, and Cisco 3500 and 2900 series switches at the customer layer. Our network is fully meshed and redundant with
Multiple backbone providers
.
UUNet - GigE Connection (1000Mbps)
Level 3 - GigE Connection (1000Mbps)
Verio - GigE Connection (1000Mbps)
Time Warner - GigE Connection(1000Mbps)
Global Crossing - GigE Connection (1000Mbps)
Allegiance Telecom - GigE Connection (1000Mbps)
ATT - OC3 Connection (155Mbps)
You won't find better redundancy anywhere
This architectural design also means that the network connections are not dependent upon an single Internet backbone. Thus when problems occur, traffic rerouting is automatic, thereby ensuring the integrity of the network and continued access for our high-speed servers.